Posted by Trina Berwick on
 Mercury Retrograde Capricorn December 2022
Mercury Retrograde in Capricorn is an invitation to reconnect with our ambition, focus on hard work and use this practical power boost towards meaningful projects. This transit encourages us to tackle any unfinished business while strengthening boundaries that can help manifest remarkable goals. Revisiting conversations or topics of discord within relationships may lead you closer toward the success we aim for - paving a spiritual path filled with purposeful progress and deep-rooted attainment.
Posted by Trina Berwick on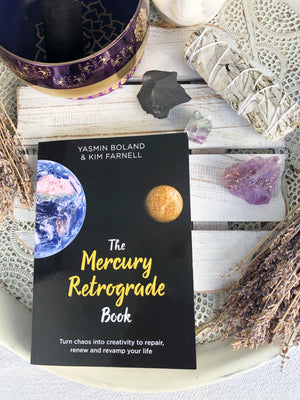 Surviving Mercury Retrograde
With another lap around the sun coming to the finish line, the dreaded Mercury Retrograde is about to begin once again. Mercury is the most frequent planet to retrograde and the New Year will start us off with Mercury retrograde on the 14th of Jan through to the 3rd of Feb. 
But what actually is Mercury retrograde and why is everyone freaking out?
Although feared by many, Mercury retrograde is a natural part of our cosmos, and the first thing to understand is Mercury is not actually traveling backwards in our sky, it only appears that way. Just as a fast plane speeds past a slow moving car, the fast plane actually appears to be moving backwards for a moment – it's the same optical illusion which creates Mercury Retrograde!