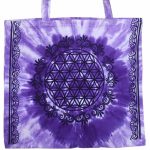 Tote Bag Purple Flower of Life
$1755

$17.55
---
---
Tote Bag Purple Flower of Life
Approx 40cm x 50cm 
This beautiful tote is hand made in India using 100% cotton and dyed using vegetable dyes.

Design and colour may vary slightly from photo.
Hand wash separately in cool water - vegetable dyes may bleed slightly and fade.
Flower of Life - Here is where Math, Geometry and Spirituality meet.  The Flower of Life is a symbol of harmony and is part of the Sacred Geometry which contains Akashic Records and the sacred universal patterns used in the design of everything in our reality.  Within its secret shape of 61 spheres, are contained the 13 spheres knows as The Fruit of Life which hold many mathematical and geometrical laws.  These laws represent the whole universe.  They are the source of all that exists.
---
We Also Recommend