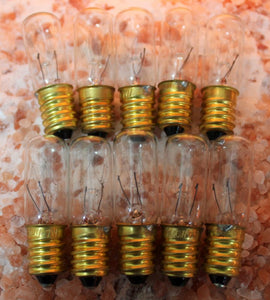 Selenite Lamp Bulbs 7w
$605

$6.05
---
---
Replacement Selenite Lamp Bulbs 7w
Selenite Lamps Add the beautiful glow of a white selenite lamp Selenite lamp to your home. These translucent/white crystals don't just make a stunning statement piece for any room in your home (or work), they can also help to clear negative energy, improve mental clarity and recharge your other crystals nearby. 
These are perfect for a new baby's room, emitting a pure soft glow so you can see to move around but not too bright to disturb your sleeping baby.
Selenite is a powerful cleansing stone that clears negative energy. Selenite can cleanse the body, environment and is the only stone that can cleanse other stones.

A protective stone, Selenite shields a person or space from outside influences. Selenite is a crystallized form of Gypsum, which is used for good luck and protection.
---
We Also Recommend