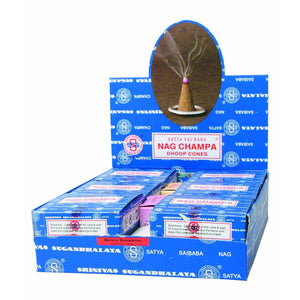 Satya Incense Cones - Nag Champa
$550

$5.50
---
---
Satya Incense Cones - Nag Champa
Satya Incense Cones - Nag Champa- 12 Cones per box. 
Approx 20-30 min burn time.

Satya Nag Champa Incense Cones are one of the most popular and beloved incense in the world.  It's made primarily from the champa flower but also contains a number of other exotic and rare spices and resins which enhance the famous scent. Instead of using glues or other chemicals it is held together by sandalwood oil and a number of other fragrant gums which decreases the burn time to ensure the incense lasts longer than others. 
This stunning range of handmade incense combines the idea of incense sticks with ingredients commonly used in smudging, creating beautifully earthy scents perfect for meditation, yoga, rituals or everyday burning.
Please note these are not Backflow Incense Cones and will not work correctly in a backflow incense burner.
NOTE: Ensure your burner is on a heat-proof surface as, depending on the design, some hot ash may fall onto the surface below. Dispose of ash once it has completely cooled - wipe away any residue left from the burnt ash. Always keep lit incense out of reach of children or pets, and never leave lit incense unattended.
---
We Also Recommend