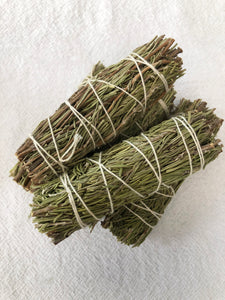 Rosemary Smudge Stick
$1650

$16.50
---
---
Rosemary Smudge Stick
Size: 10cm x 3cm approx

This beautiful smelling Rosemary smudge stick creates a pleasure to the senses. This 10cm bundle is perfect for cleansing your space and starting your day off right!
Used in rituals and ceremonies for centuries, Rosemary s often burned in a ritual known as smudging. Smudging is a cleansing ceremony used to rid a person, space or object of negative energy or even bad spirits.
Rosemary is known as a cognitive stimulant and can help improve memory performance and quality. It is also known to boost alertness, intelligence and focus, so start your day the perfect way with this beautiful Rosemary smudge stick.

Note:  Always use a heat proof container to catch your ashes and make sure you completely extinguish after use.
Crystal Karma is not responsible for mis-use of this product.

---
We Also Recommend