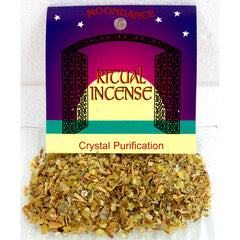 Ritual Incense Mix CRYSTAL PURIFICATION 20g packet
$1645

$16.45
---
---
Ritual Incense Mix CRYSTAL PURIFICATION 20g packet
Burn and pass your crystals through the smoke to be purified.
Ingredients: Frankincense, Copal, Sandalwood, Rosemary and salt.
For use on Charcoal Tablets and Burners.  

Disclaimer: 
The information contained on this website is for educational purposes only. It is not provided to diagnose, prescribe or treat any condition of the body. The information on this website should not be used as a substitute for medical counselling with a health professional.
---
We Also Recommend