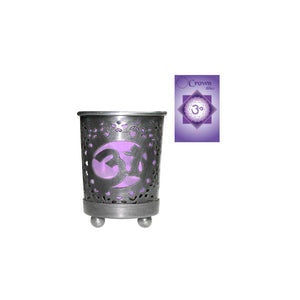 Purple Crown Chakra Votive Tealight Candle Holder
$1095

$10.95
---
---
Purple Crown Chakra Votive Tealight Candle Holder
Beautiful metal votive candle holder with Crown Chakra design.  Purple coloured glass insert relates to Crown Chakra.
This gorgeous tealight candle holder is perfect to use to decorate your home or use with your sacred space.

Crown Chakra inspired metal votive holder brings forth an aura of blissful energy as the light glows from behind the holders purple glass insert. 

7.5 x 5.5cm approx
Shop Wicca Pagan Witchcraft Spiritual Candles Australia.
Candle Warnings
-Always keep candles within sight when in use.
-Never use a candle on or near anything flammable.
-Keep candles out of reach of children and pets.
-Trim candle wick to 1/4 inch each time before using.
-Always use a candle holder specifically designed for candle use.
-Never touch or move a candle when it is in use and the wax is liquid.
-Be sure the candle holder is placed on a stable, inflammable surface.
-Make sure a candle is completely out and the wick is no longer glowing before leaving the room.
-Keep the wax pool free of wick trimmings, matches and debris at all times.
-Always use candles in a well-ventilated room.
-Keep candles away from drafts, vents, ceiling fans and air currents when in use.
---
We Also Recommend