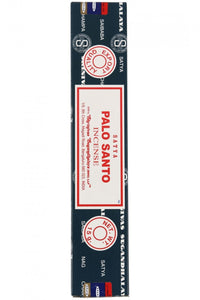 Satya Palo Santo Incense Sticks
$330

$3.30
---
---
Satya Palo Santo Incense Stick
By 
Satya 
Shrinivas, India
Produced in India, this is the genuine & world renowned, 
Satya Shrinivas Sugandhalaya "Sai Baba Nag Champa" Incense Sticks.
Satya Incense fragrances are an essential for all holistic healing and wiccan supplies cupboards. Enjoy this stunning hand crafted product from India during meditation, holistic healing, Reiki, yoga, spell casting, rituals or exercises of spiritual journey and enlightenment. Palo Santo is a mystical tree. In Spanish, the name literally means 'Holy Wood'. It has sweet notes of pine, mint and lemon.
Hand-rolled in India from a blend of flowers, spices, gums and resins. Releases an earthy, irresistible fragrance.
Fill your home with a wide range exotic scents from the Satya incense collection.
---
We Also Recommend