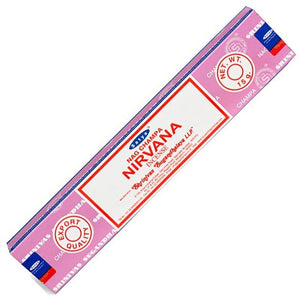 Satya Nirvana Incense Sticks
$330

$3.30
---
---
Satya Nirvana Incense Sticks
By 
Satya 
Shrinivas, India

Produced in India, this is the genuine & world renowned, 
Satya Shrinivas Sugandhalaya "Sai Baba Nag Champa" Incense Sticks.
Need some help seeking Nirvana? Then have the Nirvana incense fill the atmosphere and let it take you to happiness.
This earthy but sweet perfume with opium and vanilla maintains a fresh fragrance throughout its entire burn. It's time to get lost in your journey to Nirvana.
---
We Also Recommend