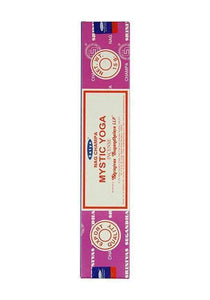 Satya Mystic Yoga Incense Sticks
$330

$3.30
---
---
Satya Mystic Yoga Incense Sticks
Mystic Yoga Incense Sticks By Satya Shrinivas, India

15 grams.
Produced in India, this is the genuine & world renowned, 
Satya Shrinivas Sugandhalaya "Sai Baba Nag Champa" Incense Sticks.
Calling all yoga lovers who need that extra layer of atmosphere to their session. The Mystic Yoga incense is the perfect accompaniment.
As you mould into your downward facing dog, warrior II pose, or extended side angle, you need a friend in the room to soothe your mind. This friend is the Mystic Yoga fragrance.
---
We Also Recommend