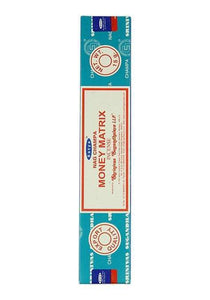 Satya Money Matrix Incense Sticks
$330

$3.30
---
---
Satya Money Matrix Incense Sticks
Money Matrix Incense Sticks By Satya Shrinivas, India
15 grams.

Produced in India, this is the genuine & world renowned, 
Satya Shrinivas Sugandhalaya "Sai Baba Nag Champa" Incense Sticks.
A little bit tight on cash? Then emit the Money Matrix incense to entice money in your direction.
The Money Matrix fragrance not only works well to alleviate the stress and worries of an empty bank account, but legend has it that it can attract money too!
---
We Also Recommend