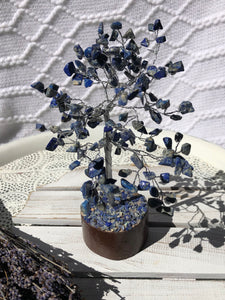 Lapis Lazuli Crystal Gemstone Tree Silver Small
$4395

$43.95
---
---
Lapis Lazuli Crystal Gemstone Tree Silver Small
This stunning crystal tree is made from genuine Lapis Lazuli crystals, silver colour wire and sits on a hand polished wooden base.
Lapis Lazuli is a wonderful gemstone to meditate with and is believed to assist in our journey of self-discovery & self-mastery. Lapis activates the third eye and balances the throat chakra, stimulating psychic abilities and enhancing dream work. Lapis is a powerful crystal for activating the higher mind, enhancing intellectual ability and stimulates a desire for knowledge. By revealing inner truths this stone encourages self-awareness and allows self-expression without doubt or fear.
This tree features 100-150 individually hand-wired crystals.
Dimensions: 18cm high (approx)
Crystal Trees are a beautiful way to bring the crystal healing energy into your home. Trees symbolise stability, growth and abundance. Surround yourself with their healing energy by placing a crystal tree in your sacred space, the living space of your home or your work environment. Each crystal has a different energy and will focus on different areas of your wellbeing. Surround yourself with the good vibes of crystals and let their positive energy benefit your overall wellbeing.
You will receive one tree intuitively picked for you. The photos represent the quality & sizing of each tree you will receive, however please note that as each tree is handmade making it unique & one of a kind and there can be slight variations and imperfections – Imperfections are not to be considered flaws.
---
We Also Recommend