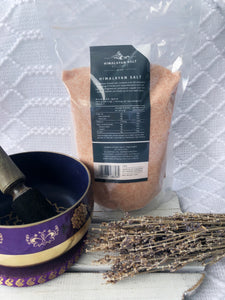 Himalayan Bath Salt Pouch - 1 kg
$715

$7.15
---
---
Himalayan Bath Salt Pouch - 1 kg Salt
Himalayan salt has a rich mineral content which can help relax and detoxify your body. Himalayan salt contains more than 80 natural occurring minerals and trace elements, including potassium, copper, iron and calcium. All of these minerals aid our body's natural detoxification process and promote the removal of bacteria.
Magnesium is known to provide the following benefits:
Relaxation and sleep quality.
Reduces fatigue, tiredness and anxiety.
Relief from muscle spasm and tension.
Overall General well-being
Add Himalayan salt to your bath for a spa-like bathing experience – soaking in these mineral-rich salts is an excellent way to wind down after a long day and perfect for a little bit of self-care! 
Directions add to warm bath and stir to dissolve. Soak in tub for 20 Minutes or when you feel relaxed. 
Images shown are for illustration purposes. Actual product may vary in shape and colour as they are 100% all natural Himalayan Salt making your purchase unique.
---
We Also Recommend