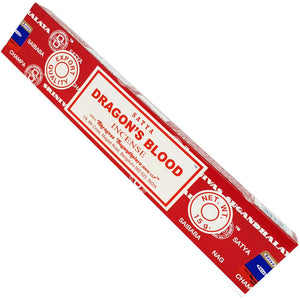 Satya Dragons Blood Incense Sticks
$330

$3.30
---
---
Satya Dragons Blood Incense Sticks
"Dragons Blood" Incense Sticks By Satya Shrinivas, India
Quantity: 15g box

Produced in India, this is the genuine & world renowned, 
Satya Shrinivas Sugandhalaya "Sai Baba Nag Champa" Incense Sticks.
With its enthralling and captivating aroma, there's no wonder that this is the world's most loved incense fragrance. 
The fragrance is so unique because of the fine blending of rare champa flowers, Oil (pure Mysore Sandalwood), spices, resins and rare fragrant gums.

With its blissful quality for providing a suitable atmosphere to meditate and resonate peaceful thoughts - this fragrance has been cherished and loved for many years.
---
We Also Recommend