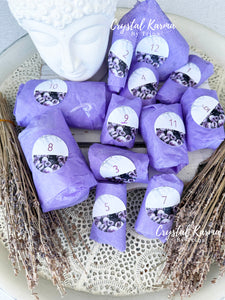 Crystal 12 Day Advent Box - 2022 Advent - Last One !!
$9350

$93.50
---
---
Crystal 12 Day Advent Box -

2022 Advent -  Last One !!  
Start your advent countdown with our 12 days of mystical and meaningful crystal gifts chosen intuitively for you.
Included in each box is a variety of crystals in various shapes, sizes and forms to celebrate the season. Trust the Universe is bringing you everything you need for your journey through life and these gorgeous gifts will enhance your life with their many different properties and stunning natural beauty.
Each day, unwrap one of the 12 gifts including all the must have crystals for any collection and of course some special forms of energetic earthly crystals - all of these are cleansed and packed with love and intention to bring you a December full of enchantment.
Over $130 Value in products plus free shipping.
Each gift comes delicately hand wrapped and thoughtfully secured. We don't want to give away the surprise of it all but some of products you can expect in your advent boxes are:
Natural Roughs 
Tumbles 
Carvings, Points, Shapes

and many more wonderful surprises! 
If you'd like to gift this mystical Advent box and would like a list of the full contents (and ruin the surprise) - please email me (info@trinaberwick.com.au) and I'll be happy to let you know the full list of what's included. 
Please note products may vary slightly between each pack - depending on availability.  
ONCE SOLD OUT, SELECT THE "NOTIFY ME WHEN AVAILABLE" BUTTON TO BE ON THE LIST FOR NEXT YEAR AND MAKE SURE YOU SIGN UP FOR THE MAILING LIST :)
---
We Also Recommend