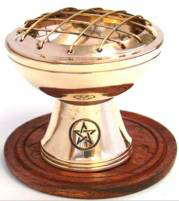 Charcoal Burner Brass Stand with Pentacle on Wooden Base
$2195

$21.95
---
---
Charcoal Burner Brass Stand with Pentacle on Wooden Base
Hand crafted brass charcoal burner on stand - Charcoal sold seperately.
Height with base: 5.5cm
Bowl Size across: 6cm
Each of the 5 points of the Pentagram has their own meaning.  The upward point represents the spirit.  The remaining 4 points represent an element, earth, air, fire and water.  The encasing circle is representative of the circle of life; it has no end and no beginning.  Pentacles are symbols of balance and protection.
Instructions for use:  
1. Hold charcoal and light it carefully from underneath
2. As soon as sparking is evident, place in burner
3. Add incense when charcoal glows.
NOTE: Ensure your charcoal burner is on a heat-proof surface as, depending on the design, some hot charcoal/ash may fall onto the surface below. Dispose of ash once it has completely cooled - wipe away any residue left from the burnt ash. Always keep lit charcoal out of reach of children or pets, and never leave unattended.
Actual product may vary slightly as they are individually hand crafted and there may be some slight "imperfections" making your purchase unique.  
---
We Also Recommend