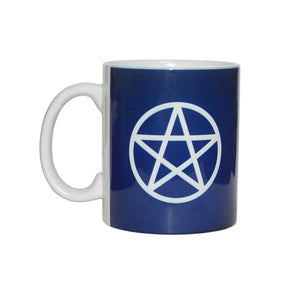 Ceramic Coffee Mug Blue & White with Pentacle
$1645

$16.45
---
---
Ceramic Coffee Mug Blue & White with Pentacle
Ceramic Coffee Mug with printed Pentacle
Add some magic to your daily coffee or tea. This doubled-sided Pentacle mug is made from ceramic. The exterior has a glossy blue finish and the interior is finished in a high gloss white.
Each of the 5 points of the Pentagram has their own meaning.  The upward point represents the spirit.  The remaining 4 points represent an element, earth, air, fire and water.  The encasing circle is representative of the circle of life; it has no end and no beginning.  Pentacles are symbols of balance and protection.
Dishwasher and microwave safe.

H: 9.5cm

W: 8cm
---
We Also Recommend