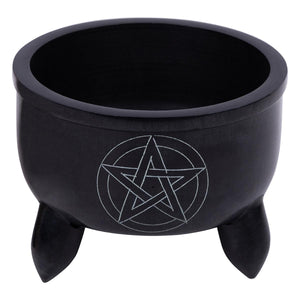 Cauldron - Soapstone - Pentacle 10 x 7cm
$4400

$44.00
---
---
Cauldron - Soapstone - Pentacle 10 x 7cm
Perfect for using with smudge sticks, incense or simply decoration for your Altar.
This gorgeous little pentacle soapstone cauldron is a must for any altar or sacred space.  Just add sand or salt to use it as a charcoal burner for your resins and powdered incense.  It would also make a great smudge pot as well!  Hand carved from soapstone in the shape of a traditional cauldron and etched with a pentacle symbol, sitting on 3 stumpy legs.
A wonderful tool for burning incense, crushing herbs, burning candles or other ritual practices. Perfect for all your witchcraft needs. Cauldron can also be used with charcoal incense, smudge sage, as a cone burner or other apothecary needs.  

Note: Each cauldron is handcrafted in India and based on craft styles that are centuries old. There may be natural blemishes or variations that are not product flaws, but add character and makes it truly one-of-a-kind.
Each of the 5 points of the Pentagram has their own meaning.  The upward point represents the spirit.  The remaining 4 points represent an element, earth, air, fire and water.  The encasing circle is representative of the circle of life; it has no end and no beginning.  Pentacles are symbols of balance and protection.
-Safety Information-
If use for burning, place your cauldron on a heat resistant surface and use caution because as with any cauldron, it can become hot. Never leave anything burning unattended. Keep your hot cauldron away from draperies, furniture etc in order not to cause surface damage or ignition.  Crystal Karma by Trina is not responsible for the mis-use or improper handling of this product.

This item is not for the heating or preparation of consumable or items that you intend to eat.
10 x7 cm
Weight: 410g
Smudging Cauldron

Witches Cauldron
Pentacle Cauldron
---
We Also Recommend