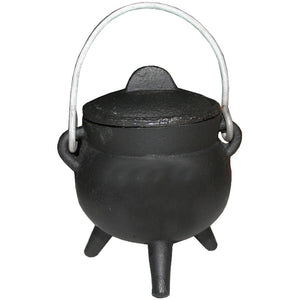 Cauldron - Cast Iron with Lid & Handle - Plain 7cm
$3295

$32.95
---
---
Cauldron - Cast Iron with Lid & Handle - Plain 7cm
Perfect for using with smudge sticks, incense or simply decoration for your Altar. A wonderful tool for burning incense, charcoal discs, crushing herbs, burning candles or other ritual practices. Perfect for all your witchcraft needs. Cauldron can also be used with charcoal incense, smudge sage, as a cone burner or other apothecary needs.  Putting on the lid it will easily extinguish your lit items. 
7cm
Note: Each cauldron is handcrafted and based on craft styles that are centuries old. There may be natural blemishes or variations that are not product flaws, but add character and makes it truly one-of-a-kind.
-Safety Information-
If use for burning, place your cauldron on a heat resistant surface and use caution because as with any cast iron item, it can become hot. Never leave anything burning unattended. Keep your hot cauldron away from draperies, furniture etc in order not to cause surface damage or ignition.  Crystal Karma by Trina is not responsible for the mis-use or improper handling of this product.

This item is not for the heating or preparation of consumable or items that you intend to eat.
Approx 680g
Smudging Cauldron
Witches Cauldron
Pentagram Cauldron
Pentacle Cauldron
---
We Also Recommend