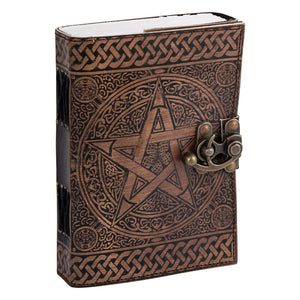 Book Of Shadows Leather Journal - Pentacle Dark Brown Print
$7500

$75.00

Save $20
---
---
Book Of Shadows Leather Journal - Pentacle Dark Brown Print
This gorgeous handmade genuine leather journal comes with approximately 120 sheets (240 pages counting both the sides) of hand made unlined, cotton parchment paper. 

This multi-purpose journal makes an ideal Book of Shadows, diary or writing journal.

The journal is 12.7 x 17.7 cm
This Pentagram handmade genuine vintage leather journal, pentacle, wicca, pagan, personal organizer, daily planner or book of shadows notebook is very beautifully and features hand made 120 eaves (240 pages) notebook features a black thick thread binding, with print on both front and back.

Handmade in India, these journals are influenced by symbolism that is derived from the Wiccan/Pagan community, creating a personalized space where your inner creative genius can flourish. 
These Wiccan/Pagan inspired handmade leather journals are great tools for anyone wanting to record inspired thoughts, mystical moments, and potential rituals and recipes. Sketchbook is great for keeping by the bedside to jot down dreams, or for use as a diary or journal. Notebook has an antique vintage C-Lock brass swing clasp to keep your secrets from prying eyes. Handcrafted journals contain acid free, handmade, archival Quality, linen - cotton parchment paper by a family owned company that has been in the handmade paper making business for almost 150 years.
The possibilities are endless! These journals are the perfect resource for anyone that is desiring a place where all of your thoughts/feelings/rituals can be recorded and kept safe in this unique creation, that is at the same time environmentally conscious (saving trees!). These journals are free of trees, acid and chemicals and made of real authentic leather.
This brand new journal makes an ideal gift for that special someone or simply to keep for yourself. (Due to computer screen resolution color shades of the product may slightly vary from images shown.)The journal is made of leather and drawing papers which should be protected from water.

Leather Pentacle Journal
Leather Book of Shadows Journal
Each of the 5 points of the Pentagram has their own meaning.  The upward point represents the spirit.  The remaining 4 points represent an element, earth, air, fire and water.  The encasing circle is representative of the circle of life; it has no end and no beginning.  Pentacles are symbols of balance and protection.
---
We Also Recommend