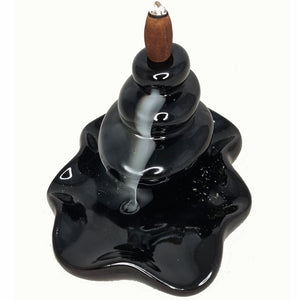 Backflow Incense Cone Burner - Ceramic Waterfall - 11cm Style 11
$2200

$22.00
---
---
Backflow Incense Cone Burner - Ceramic Waterfall - 11cm Style 11
Approx 11cm high x 7cm wide 
For a stunning waterfall effect of incense smoke, This Back-flow Incense Burner has been carefully made with ceramic. When the incense cone is lit, the aroma and smoke mist will slide down the burner, creating a cascade-like effect! 

Please note this product requires Backflow incense cones and we have plenty in stock!  
So what are backflow cones?
Backflow incense cones differ from standard cones as they are semi-hollow with an open hole at the base, and are designed to be used with special burners which have a hole or design that pulls the smoke downward and allows it to fall in a flow, creating a stunning visual effect as it cascades over or through the burner.
NOTE: While Backflow Cones MAY burn in a normal incense cone burner, you will not see any cascade effect unless you burn them over a specialised BACKFLOW BURNER.
HOW TO USE BACKFLOW INCENSE
Light the incense as you'd light any incense cone: hold a flame to the tip until it catches, then blow out the flame and place the cone safely onto the BACKFLOW burner. Backflow cones have a hole in the base that goes almost to the top of the cone; place the lit cone so that the hole aligns with the hole on the backflow burner.
The cone will burn normally (with smoke moving upwards) until it begins to burn the hollow section, and will then begin to draw the smoke through the hole in the base of the cone (some smoke will continue to go upwards - this is normal). Each burner has a different 'path' that the smoke is designed to flow through as it continues to burn. Avoid breezes or draughts, as this will effect the cascading effect. 
NOTE: Ensure your burner is on a heat-proof surface as, depending on the design, some hot ash may fall onto the surface below. Dispose of ash once it has completely cooled - wipe away any residue left from the burnt ash. Always keep lit incense out of reach of children or pets, and never leave lit incense unattended.
Native Soul
---
We Also Recommend