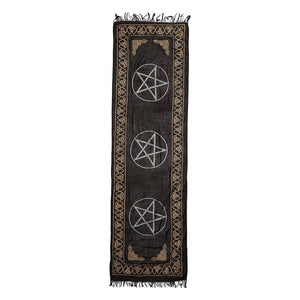 Altar Cloth - Pentacle with fringe edge
$3295

$32.95
---
---
Altar Cloth - Pentacle with fringe edge
This beautiful tapestry is hand made in India using 100% Rayon and dyed using vegetable dyes.

Each of the 5 points of the Pentagram has their own meaning.  The upward point represents the spirit.  The remaining 4 points represent an element, earth, air, fire and water.  The encasing circle is representative of the circle of life; it has no end and no beginning.  Pentacles are symbols of balance and protection.
Design and colour may vary slightly from photo. Great for Altar or bedrooms as wall decor.
Hand wash separately in cool water - vegetable dyes may bleed slightly and fade.
Pentacle Rayon 55 x 180cm
---
We Also Recommend