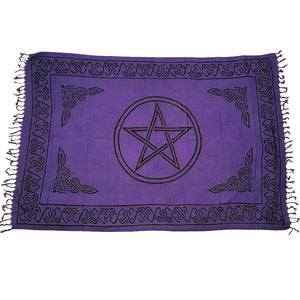 Altar Cloth - Pentacle Purple Cotton
$3295

$32.95
---
---
Altar Cloth - Pentacle Purple Cotton
Pentacle Rayon 105 x 170cm
This beautiful tapestry is hand made in India using 100% cotton and dyed using vegetable dyes.

Design and colour may vary slightly from photo. Great for Altar or bedrooms as wall decor.
Hand wash separately in cool water - vegetable dyes may bleed slightly and fade.
Each of the 5 points of the Pentagram has their own meaning.  The upward point represents the spirit.  The remaining 4 points represent an element, earth, air, fire and water.  The encasing circle is representative of the circle of life; it has no end and no beginning.  Pentacles are symbols of balance and protection.
---
We Also Recommend